Now that I'm trying to get back in the regular routine of blogging, I need to show off some of Miles' room cuteness. Since I overhauled the plan for his room about 2 months before he arrived, his mobile plans also needed to change.
I just couldn't land on anything I loved. I'm not a "themey" person when it comes to my kiddo's rooms, so I had colors in mind but not a shape. I was going to just do a cute circle one with my leftover fabrics and then I spotted this on Etsy: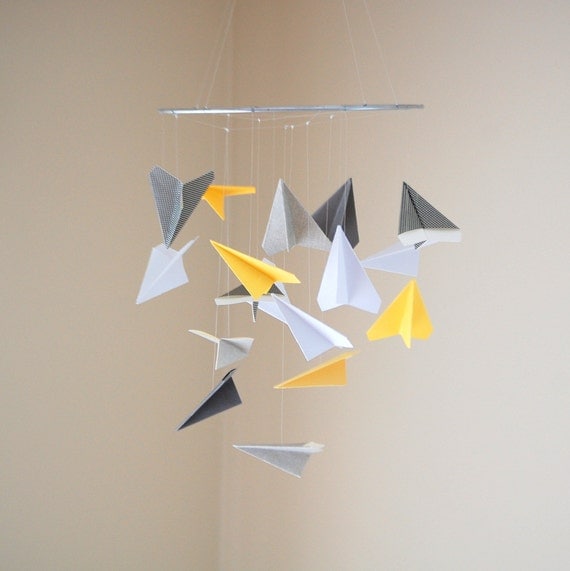 Adorable, expect for the price tag and I wanted to add a few more pattern instead of just solid papers. So I busted out my trusty glue gun and got to making one myself. Here were all the supplies I used:
2 wooden embroidery hoops – 8" and 10"
paint for the hoops
hot glue gun
about 8 different scrapbook papers in gray, yellow, and white
fishing line – I wish now I would have used line that was a bit thinner and more transparent, but you can't be picky when you're nine months pregnant and doing craft projects
little white hook to attach everything to the ceiling
1. There are a few tutorials on how to make your own paper airplane mobile
here
and
here
. Mine isn't super detailed as I forgot to take pictures of lots of steps.
2. I only used the insides to my embroidery hoops, not the outside part that has the hardware on it. You can discard that part (or save it for another project). Then I started by painting my hoops with a gray spray paint I had and hated the coverage and color. So I switched and did 2 coats using a acrylic craft paint and loved it much more.
3. Make your airplanes! There are a million different ways to make your paper airplanes. Look here for some good examples
here
. After lots of trial runs, I decided I wanted something very simple with very few fold lines.
I cut my paper into 4.5" x 5" rectangles.
fold your paper in half
open it back up and fold each top corner down and line up with the fold down the middle
fold in half again
Take each side and fold down so the top fold line, lines up with the bottom of the plane. Does that make sense?
And that should make your simple airplane!
I hot glued it together in all the places it could come unfolded and while the glue was still hot, I stuck in a long piece of fishing wire to hang it
4. I tied 3 fishing wires evenly around each hoop (6 lines total) and tried as best I could to hang the 2 hoops so they were even with each other. They're actually not tied together in any way.
5. After I made lots of airplanes, I tied them loosely around the hoops to figure out how I wanted to space them, which colors I wanted where, etc. When I was happy with the placement, I tied the fishing wire as tight as I could and added a small dot of hot glue to secure it. Then I cut off the excess fishing wire. (the beginning stages of mobile is hanging from the ceiling fan in this picture)
6. Lastly, William helped me measure and hang it from the ceiling just using a little white hook.
I love how it turned out and I hope Miles enjoys this view from his bed.