I have been on kick to get my master house to-do list DONE before Ellie arrives. I mean, I know this will never happen. Especially since when I typed out the list in excel and saw the total I'd have to spend, I about keeled over. Guess I have expensive taste. Time to start doing the projects that cost
zero.
Enter: my pantries. Yes, I have 2 at this house. And I know how lucky I am for that! When we moved in, I kinda just threw stuff in them and have lived with it these first 6 months. But they were getting disastrous with no organization.
I also readily admit that I stink at cooking. Ok, not so much at cooking because I can make a decent meal. I just don't love the process of meal planning, shopping, and cooking elaborately. Give me extra time and I'd rather be crafting. I love family dinners for the sake of eating together and so I do it. But I don't love it. So anything that can possibly help me be more organized in the kitchen department is good to me. Ok, ready for it?
Yeah, you're talking phonebooks that have never been opened, random drinking cups, and a big bag of masa flour that I used a 1/4 cup of for some recipe that bombed. The pantry by the fridge isn't quite so bad, but still needed help.
I did not allow myself to spend any money on this clean up project. So I gathered some plastic tubs I wasn't using from the basement and got to work. I took everything out of both pantries, recorded what I had, and started figuring out what shelf I wanted everything on. I pulled out my Silhouette machine to start making labels. Have I told you how much I love to label things? Everything in my house would have a label on it if William would let me. :)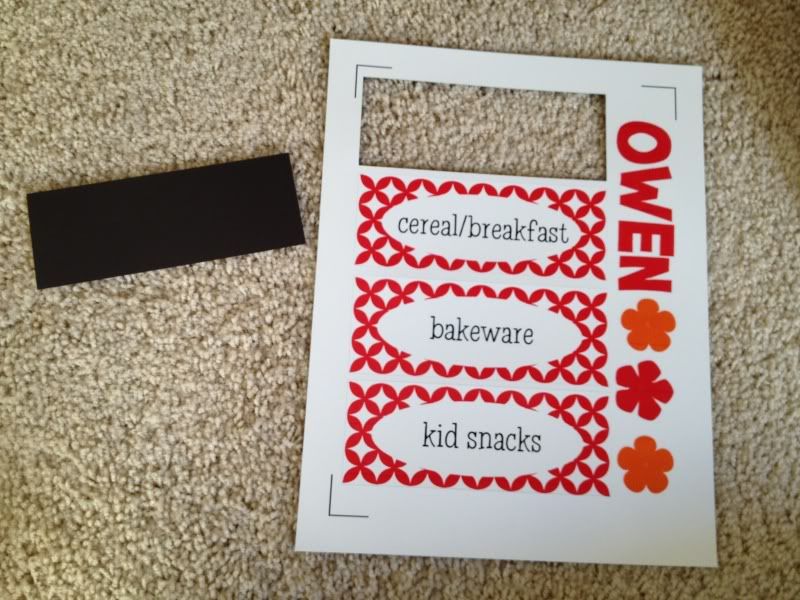 For my wire pantry shelves I printed on magnet paper so they could stick right on the shelving. While a great idea and they look cute, the magnet isn't very strong so I don't think they're going to stay on very long. Sad.
I labeled each clear container and simply organized small things in the tubs, donated a few things to Good Will, and got all my recipes in one place (more on that organization in another post). These pantry shelves now hold bake ware (that I don't use often), cereal/breakfast stuff, all my baking products, Owen's snacks, recipes, and a miscellaneous area for extra ziplocs, batteries, etc.
ahh, much better
As for the pantry by the fridge, I did the same thing. Labels, labels, and more labels.
But I also did something I've been meaning to do for awhile. A pantry inventory. I wrote down the things that are most often stocked in my pantry with checkmark boxes. This way I know what I have at a glance without having to shuffle through my cans and boxes. It hopefully will help me from having 7 cans of great northern beans, but no black beans like I did tonight for dinner. :) I put it in a sheet protector, hung it on a command hook on the door, and just use a dry erase marker and erase a box if I use something. And yes, William's been instructed to do the same.
So there you have it. A no cost pantry cleanup. Not a huge change anyone would notice, but still makes me smile when I open those doors. Up next: the piano room is almost done so I'll share that!