Welcome to Pinned It, Did It Monday where I show you the pins I've actually done from Pinterest. I like to hold myself accountable to doing some things I find on there. Otherwise, I just get sucked into getting on there and thinking I don't cook well enough, do enough creative things with the kids, or have a pretty enough home. Baby steps.
I knew I wanted Ellison to have a ruffled skirt to go along with her turkey shirt for Thanksgiving last week. I pinned about 10 different skirts and after a short browsing, settled on Dana from Made's layered skirt. I LOVE this woman's blog and her tutorials are always very detailed and easy to follow.
Picture I Pinned
:
Source
: Tutorial:
The Layered Skirt
from
Made
My pictures
:
My review
: This was NOT a one nap project. Haha. I had a bit of a learning curve with the ruffles, each layer, and then the elastic waistband. I also encourage you to read the pattern all the way through lest you start cutting your strips and realize that you cut them all about an inch too narrow because you forgot to take hemming and seams into account and then have to make 3 more. Oh well. It was fun to learn how to do ruffles and I think (as long as you don't look too close) the finished product turned out adorable!
For turkey day this year, I was on for bringing sweet potatoes. I've never actually made sweet potato casserole before, so enter: Pinterest.
Picture I Pinned: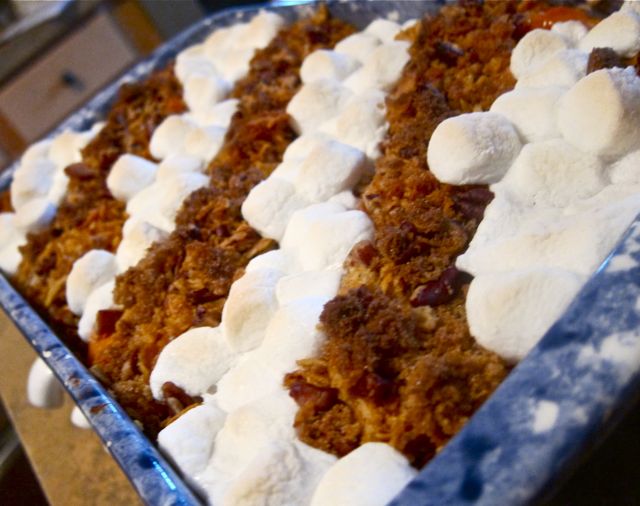 Source
:
Sweet Potato Casserole
from
Comfy in the Kitchen
My picture
:
My review
: Absolutely delish! When I got to my mom's house I realized I left the cornflakes at home and of course, no stores were open. The only cereal she had in her cabinets were some stale cheerios. But I used them (only about half the amount that was called for) and they were still fabulous.