Happy New Year! Where in the world did 2012 go? I feel like this year literally just vanished. So in the spirit of everyone's new year posts, here goes. I'm not a huge resolution person. Probably because every year it sounds like this, eat better, lose weight, get better at menu planning, and learn how to clean on a more regular basis. While those are all good things and ones I do hope to accomplish this year, I don't actually "resolve" to do them. Every year, some of my family members ask God for their
word
or
phase
for the year or season they're about to enter. If you are a sermon-listener of sorts, my dad did a great one last week on this topic. Click
here
.
I've been asking God a lot about my word in the last 2 weeks. I heard it, and then asked again several times because I didn't really like the word. But it didn't change.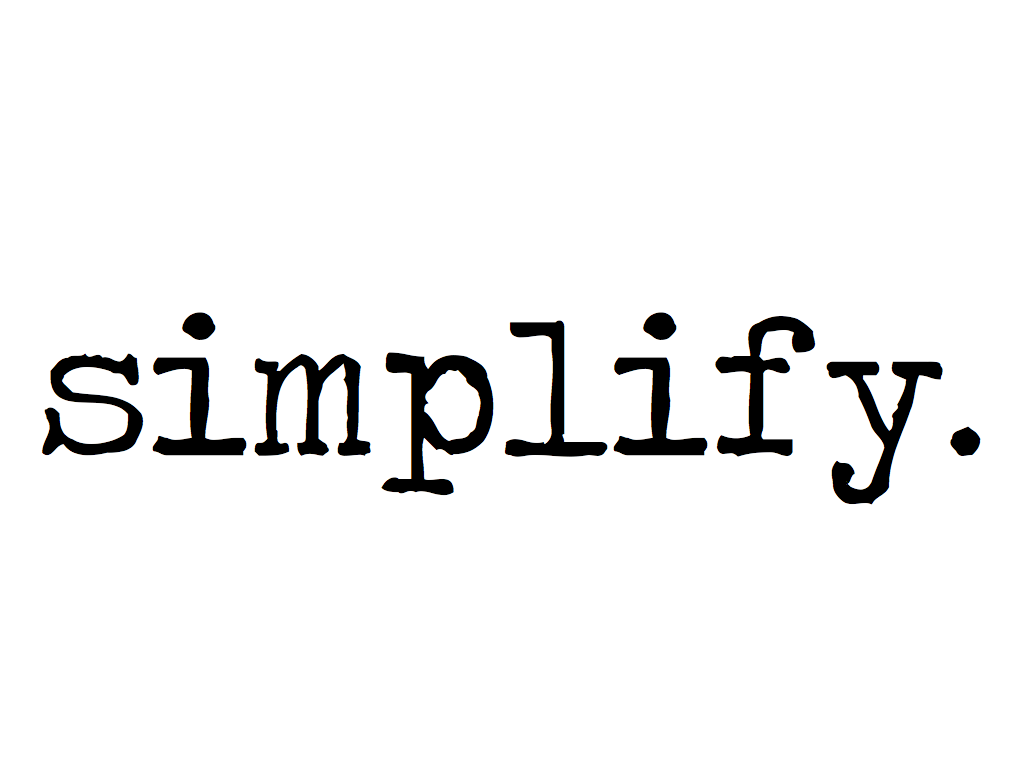 Simplify. It's not a word I do well, with really anything. I'm definitely more of an over-the-top kinda person. And in most cases, I'm really ok with that part of who God's made me to be. I love throwing elaborate parties, I love making things with tons of little details, I love reading, crafting, and creating until the wee hours of the morning. But this year, I feel like God is calling me to learn more about this word. I kept hearing him say this past week, get back to the basics. So as I've prayed about this word, I feel like it's to be fleshed out in 3 simple things:
Love God.

Love my husband.

Love my kids.
I felt bad and tried to add a 4th one on there about loving other people well, like my friends and neighbors. But immediately heard to take it off the list. It just felt like too simple of a list. Haha. And then that's when I knew it was God. In dialoguing with God I felt like he gave me just a few starters on what this means for me.
Love God – read the Bible (I'll be doing the One Year Bible as I normally do). read more books about the Bible. worship regularly. show my kids what it looks like to have a daily, life giving relationship with Jesus.

Love my husband – help him figure out this diagnosis and encourage him with healthier eating as a family. support his worry of money by making sure to get in as many hours doing data entry as I can (despite it being the most boring job ever). speak his love language of acts of service by doing more around the house. plan more dates. have more sex.

Love my kids – simply give them time. time unplugged from any electronics, just time. have fun. enjoy their littleness. get out and give them experiences.
And that's it. For now. I'm not sure I'll be continuing my Pinned It, Did It Monday Series. I still haven't felt a certain way about it. But I know that Pinterest certainly doesn't lend itself to learning about the word simplicity. So we'll see what more I hear from God as I go. And no worries, blogging in general is still very much a priority that God said I didn't need to stop.
What is God telling you about 2013? What's your word?