I had a pretty clear vision for what I wanted the party to look like. There are so many ways to go with a barn theme, so I picked these main colors and stayed with that theme throughout. I knew I wanted to use cow print, burlap, with splashes of red.
I made lists of my main areas that needed decorations and slowly made my way through the lists. For about 2 months, I just tried to knock out one project a day (during nap times or after the kiddos were asleep). Luckily, some of the projects I was able to do with Owen which made it super fun!
Front Welcome Area
My sister had the fabulous idea of putting stars on the path to the door. She has seen this
idea
on Pinterest but the flour didn't show up very well, so the next thing I knew she had found some red and silver spray paint and went to town. She cut a start shape out of the middle of a large piece of posterboard and used it as a stencil. She did it on the walkway, and also close to the gates in the backyard. After 1 mow, you can barely tell they were there. So adorable!
To keep my graphics pretty uniform throughout the party, I bought this digital clipart set off Etsy. I used these animals and background papers for almost everything I did.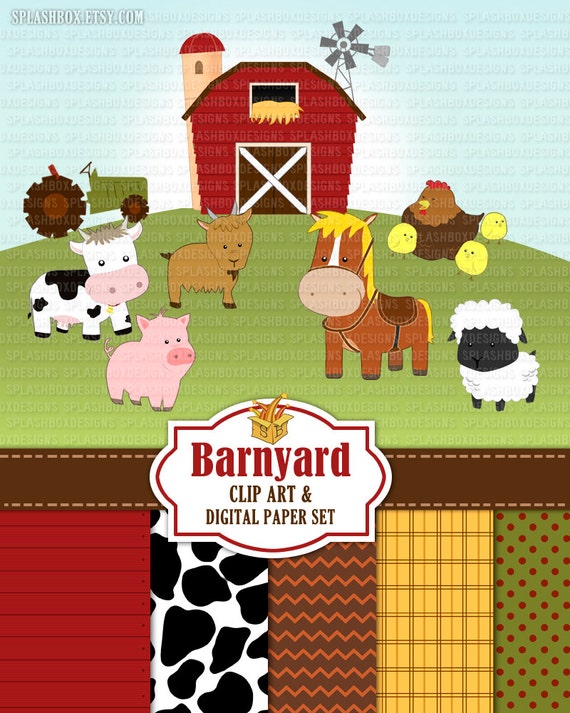 For the front door sign, I printed out EIEIO on cardstock using this
free Rio Grande
font. The cow print was a digital paper from above that I just printed. I could not find cow print paper anywhere. I found the chalkboard for super cheap at a local kids resale store and my sister did the awesome handwriting on it. The cow balloons are from Hobby Lobby. I took them to Schnuck's a few days before the party and they filled the, and added the red ones. There was also a large
cow balloon
that I used in the backyard.
Inside
I knew most people would spend their time outside, but I still wanted to put up something small inside and have pictures of the kids somewhere. I made circles that had each month on it and hung twine from the back. I hung 2 pictures with small clothespins on each string. I did the same thing for Owen, but did half year increments.
The other large inside decor were the 2 food tables and I'll be doing a separate post about the food. But my favorite decor item was definitely the
large barn backdrop
that I made. The green "
pastures
" were just perfect for the cupcakes grazing. I got the cow tablecloth from Amazon. I also sewed a burlap and cow print bunting and made a matching one for the photo booth outside and a small one for Ellie's high chair.
At the last minute, I hung up this cow that was in my farm folder from my classroom.
And of course, the bathroom needed a sign which read Outhouse - Don't Squat on Yer Spurs.
disclaimer - not a Jenna picture
The Backyard
I had my heart set on a windmill hanging from the swing set. I took white posterboard, free handed windmill shapes, and spray painted it silver. But the dowels I taped on didn't offer much support. So it got put on the back burner. When Kara and Philip arrived, they saved the day by figuring out how to support it better (thank to Owen's little golf club set) and got it hung up. Thanks guys!!
The tables were all covered with cheap dollar store red table cloths. My sister and I taped them all down since there was a nice breeze that day. We cut out squares of the burlap and cow fabric. They were taped down as well since the cow print kept blowing away. I bought pint mason jars (cheap with a coupon at Joanns) and wrapped them with more burlap, red ribbon, and then twine. Daisies completed the look.
The favor table was in the middle of all the action because I wanted to be sure people signed the photo mat for Ellie. Owen
had one from his first birthday party
so I wanted one for Ellie's room too! I found a bulletin board at Goodwill for $1 that I spray painted red and glued burlap to the middle. I printed out pictures of Owen and Ellison together and just pinned them on.
In the two large red tubs were the kid and mommy favors. The kids (along with cowboy hats they got later) for a 6 pack of flavor straws. When you put them in milk, the milk gets sucked up through favor "beads" and makes for fun chocolate/strawberry/etc milk. The tag said "thank moo for coming."
The ladies at the party got little burlap sacks that I found on
pickyourplum
. I added a little vinyl letter of their initial. Inside was a small bottle of Udderly Smooth Udder Cream. :)
Above the drink table, I took a piece of red posterboard and cut it in half. I used hot glue and very carefully spelled out their names and attached twine. The red frame is usually hanging in my kitchen, but it got repurposed here with a string and a few more pictures of the 2 together.
The craft table donned some more mason jars with flowers and a cute rooster that I borrowed from my Aunt Toni.
all the party links
:
inspiration and agenda
outfits
decor and favors
the stations -
crafts
,
animals
,
games
the photobooth
the food