It's Monday. And amidst the craziness of having people in my house all week, I got a few things done that I've pinned from Pinterest. 2 cleaning ones and a simple "dessert."
Is your tupperware drawer as messy as mine was? Oops, forgot to take a picture of how bad it was. But trust me, it was bad.
Picture I Pinned
:
Source
:
This That, and the Other
from
As the Card Rack Turns
My Picture
:
Review
: Um, duh, why did I think of this? I just bought a cheap dish rack at Wal-Mart, but they even have some at the dollar store. My lids were all over the place and now they are easy to find! I wonder how long they'll stay like this.
Nothing better than caramels in the fall!
Picture I pinned
: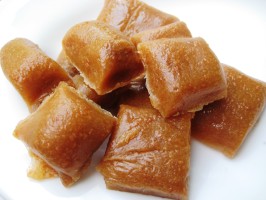 Source
:
Microwave Caramels
from
Food.com
My picture
:
My review
: I've made caramels a few times before but it usually involves standing over the stove for a long time. Who knew you could do it in the microwave with 5 ingredients? I needed to cook them a touch longer, but these were amazing! I added some sea salt to a small part of my batch. Since they were a bit soft, we just used it for caramel dip. Fabulous! Try it.
Are your rings filthy?
Source
:
How to Clean Your Engagement Ring
from
FabSugar
My pictures
:
My review
: This short video gives you 3 ways to clean your ring. I must say I'm still madly in love with my engagement and wedding ring. William did a pretty amazing job with them. :) I used the ammonia method, but did also use a toothbrush. The pictures don't do justice how much cleaner they are! I love how sparkly they were after only a few minutes of cleaning. So pretty!
Have a great week everyone!