This past Tuesday, I got the privilege of sharing a quick thing at Mom2Mom. We have instituted the Mommy/Marriage minute each meeting. It's just a 5 minute segment on anything. . .could be something God's teaching you, a cool thing you do with your kiddos, or a way you love on your husband.
I decided to share a little about what we do with Owen to help start getting some Bible in him. :) We've been reading his Bibles to him since he was a baby. This is his current favorite of his 4 Bibles.
But around 18 months I realized, he could repeat things back to me, so I decided to start doing Bible verses with him. I printed off a few of my favorite simple verses and decided to read one a week. We use it as his bookmark and after we read his story, we read his verse. I have him repeat it back to me and we sometimes talk about it. Then, I pray it over him. I think it's so important to let your kids HEAR you pray over them. So for example, if the verse is "Children obey your parents because you belong to the Lord." I would pray that his obedience would stem out of a love for the Lord. I would also try use this verse when talking to him about obeying me. I want to try to teach him the "why" behind why I'm asking him to do certain things
.
After I used my ugly ones for awhile, I finally found these 2 cute printable ones. No re-inventing the wheel here. I printed them and "laminated" them with contact paper. I put them all on a D ring to keep them organized.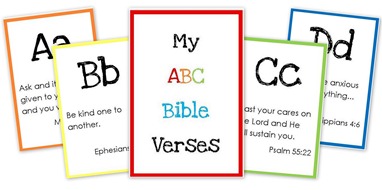 {From
HomeSchool Creations
}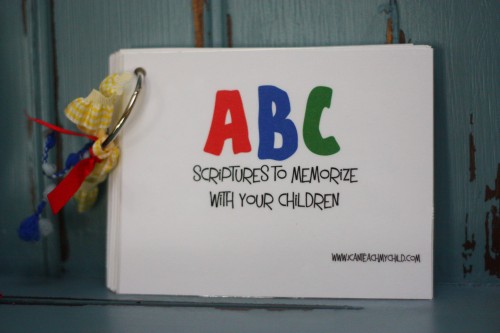 {From
I Can Teach My Child
}
Hope maybe you can use these with your kiddos. Here's a fun story from a friend who started using them with her daughter:
"I have a cool story I have to share with you since you shared those verses with me! We had friends over yesterday & when it was time to leave, their son threw a fit. I walked out with them, husband & kids were inside. Daughter told dad "he was being naughty when they left." He asked why & she said "he kept saying no, no & wasn't obeying his parents. He needs to obey his parents because he belongs to the lord!!!" What a huge blessing to me! So, thank you for sharing those verses with me:) "